Surface Treatments and painting
In order to master the complete production cycle of a finished product, KEP Technologies has integrated surface treatment and finishing.

Surface Treatments
Our means of surface preparation (chemical or mechanical stripping – sanding, sandblasting, brushing) and finishing (chemical conversion, passivation) allow us to meet the corrosion resistance and cosmetic requirements of our customers.
Liquid Painting
KEP Technologies has the necessary means and skills to apply liquid paints that meet the most demanding specifications in terms of protection and appearance.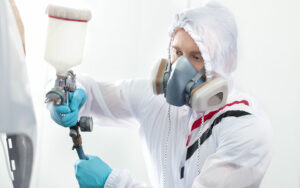 Powder Painting
An electrostatic powder coating installation allows the finishing of most industrial parts which are placed in our care by our customers.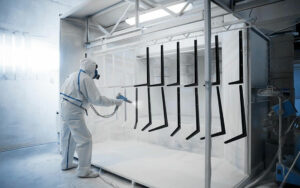 Marking and serigraphy
Various part marking technologies (laser, datamatrix, inkjet, engraving) are available on our sites as well as serigraphy for the finishing and decoration of products, user interfaces, etc.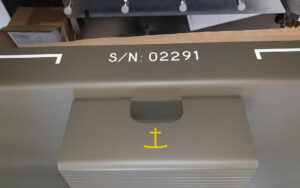 ---
Housing – alodine 1200 and liquid paint

B787 Program

Emergency locator transmitter – powder coating

A320 Program

Aircraft towbar – powder coating

Rafale
WOULD YOU LIKE MORE INFORMATION?
You have a particular challenge? Please get in touch with us.